Project Name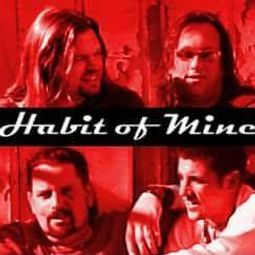 Habit of Mine
Habit of Mine's unique cutting edge sound is the product of a diverse group of songwriters who's backgrounds spread all across America. They have taken their high energy live show to all the top clubs up and down the west coast: including The Bottom of the Hill in San Francisco and The Whisky A Go Go in Los Angeles.
PRESS


munchkinmusic.be
by: "Mike SOS"
Habit of Mine is a Los Angeles based quartet whose approach to rock is very dark and foreboding, a la Alice in Chains and Tool, yet at times exemplifies artsy rock like Jane's Addiction. It's this juxtaposition that make the 16 tracks that comprise the eponymous release so engaging, as the band can go from dirty Danzig-esque grooves ("Habits Of Mine") to enchanting acoustic ambience ("Spring") at a moment's notice, keeping the atmosphere intense all along the way. Sweeping guitar lines and trippy rhythms are firmly placed, allowing the musician's camaraderie to play off of one another, creating a pseudo-psychedelic landscape where cascading rock music reigns supreme. Majestically brooding, Habit of Mine's disc gives the listener a smorgasbord of ethereal emotions and permits your ears to ponder possibilities other rock bands just can't deliver.
Smother.net
by: "J-Sin"
On their bio sheet they describe themselves as Pantera meets Jeff Buckley meets Ted Nugent meets Jane`s Addiction. Huh? That`s either a warning of things to come or a really bizarre-ass band. Well I wouldn`t say either was true in this case fortunately. Habit of Mine sounds a bit more like an older Alice in Chains or maybe even Queen/Rush at times. Ok my comparisons are worse than theirs were. But yeah they`re more of a stoner rock band I suppose than anything else. But they`re a pretty good one at that. Then again how can anything be bad coming out of Berkeley California? This just one more reason why I hate living in Virginia where innovation is a four-letter word. I think Habit of Mine has just become a self-fulfilled prophecy.


splendidezine.com
by: Sarah Zachrich 
Habit of Mine's artfully blurry CD-sleeve photo shows the band rocking out, long hair flying. And they do have definite influences of the hard-rock variety, specifically classic rock and the more intelligent metal of the '90s. Perhaps a little toodefinite; vocalist Erik Macenas employs a Chris Cornellishly soulful scream on some tracks, a Perry Farrell reediness on others, and when the band really gets cranked up, Erik Jensen's guitar grinds as menacingly as Jerry Cantrell's. Habit of Mine have a surprisingly mellow side, though -- there are several songs in which Jensen never even gets near the distortion pedal, or it's used only to create dreamy feedback washes. Some of these are delicately pretty, like the brief, guitar-and-vocals only "One Wish" or the chaotic, psychedelia-tinged "Trip Shit". Others, like disc closer "Save the Day", are fairly standard grunge ballads.
 
musiccritic.com
by: matt cibula 
"In Praise of Musical Schizophrenia" 
Habit of Mine is a typical four-piece nu-metal band out of California…well, they are for the first two songs on this really really long debut album. "I Think About You" and "Dark Little Princess" are very much a part of that whole post-grunge crunch thing that all the groups were doing two or three years ago, and all you can really tell about them from these two songs are: A) they play well enough; B) Erik Macenas sings well enough; C) drummer Todd Duda needs some work on his lyrics. ("You say I was sinking / But my heart still floats" -- eesh.) 
But something weird happens when the third song, "One Wish," comes on. This isn't nu-metal; it's…it's…it's folky prog! And it's kinda interesting! Hmmm. Then we get to "Habits of Mine," the almost-title track; it's…it's…it's like all those weird hybrid hard/soft songs on Zeppelin's Houses of the Holy and Physical Graffiti! And Macenas' voice actually does that messed-up Robert Plant warbling thing! Suddenly, all bets are off, and this album (and this group) get awfully hard to pigeonhole. 
Some of the songs tend towards the easy metal-ballad or loud slamming pounding pieces, and that's cool enough -- hey, everyone's gotta rock sometimes. But these songs just don't stand out from Nickelback territory, really. But other songs do, they really really do: the creepy instrumental "Trip Shit," the psychedelic "Reasons" (someone's been listening to Soundgarden, which is fine by me because Soundgarden ROOOOOOOOOOOOLED), and the twelve-minute"Spring," which morphs halfway through into a completely different song, a wonderful feature for Erik Jensen's guitar solos (yes, that's plural on the solos, there) and the bottom-end laid down by bassist Tom Gardner. 
So although this isn't a great record, it bodes very well that Habit of Mine is so wonderfully ambitious. If Duda could just not write stuff like "One and two / Buckle my shoe / Three and four / Close the door", and if they could hold onto their admirable musical schizophrenia, I really think they could have some even better stuff in their future. But in the meantime, this is some fun-ass loud metal prog folk jamband poppy rock music indeed.


indieville.com
by: Matt Shimmer 
When all is said and done, Habit of Mine is a good band. They play hard rock, one step below metal, and they do it well. And while the HOM repertoire offers nothing original or out of the ordinary, it still stands out as a strong, very infectious album. 
Melody is the name of the game on the band's self-titled debut album. Right from the powerful albeit slightly repetitive opener, "I Think About You," HOM go for the hooks. As was the case on Lucy's Fur Coat and Choking Ghost's albums, the songs may take a few listens to fully sink in, but after they do you'll be humming them for weeks on end. While the majority of the record's songs are in melodic hard rock territory (Pantera-calibre), there are also a few departures. HOM's sensitive side is on display on calmer numbers "One Wish" and "Spring." Meanwhile, the instrumental "Trip Shit" and inventive spoken word / rock experiment "Talk To Me" offer music that's a bit out of the ordinary. 
Altogether, HOM's debut album is a fine piece of melodic rock music that blends harder material with more subdued alt. pop. This ain't anything new or creative, but it's fun nonetheless.

 
scorerocks.com
By Alma
Initial Impression Full length CD but no info. How sad. Wait… Those hooded, goateed guys on their website are the band? Yum… 
Notable Lyric I'll give you "Dark Little Princess": "I used to feel everything / But now I don't know / We were playing those games / And now it's touch and go / You in the redgrass giving me pain / You take all my nightmares and left me insane…" 
Factoid They're playing all over the Bay Area. That's all I could get from their website. 
Serve With Pantera, Jane's Addiction 
Comments Erik Jensen (guitar) is awesome! Erik Macenas, vocals, is a hottie. Oh, and talented too. "One Wish" showed a serious, sensitive side. It almost didn't belong on CD, especially right before the dark "All of You". "Closer" sounds like Jane's Addiction. I started to get a little bored halfway through until "Whenever I See Your Face". Still liked the CD. I wonder if they're as hot in person…